Here's the VLOG that I did
Summary of this video:
- A song that I created, changing the lyrics of our local talented JJ Lin's song, Mu Nai Yi (林俊杰-木乃伊).
- A short skit, showing me late
for a date
, with my friend, and yet still take my own sweet time.
- Then the VLOG that I did for the food challenge. (Actually it links from the short skit)
Hope you guys will like it and do watch finish this video yea. :)
~~~~~~~~~~~~~~~~~~~~~~~~~~~~~~~~~~~~~~~~~~~~~~~~~~~~~~~~~~~~~~~~~~~~
Other than the ones that I've mentioned in the VLOG that I did,
Cineleisure
has got many many F&B outlets for you to savor in. Be it quick bites or a proper meal.
If you're on a rush for a movie or even wanting to just have a quick bite,
CINELEISURE IS JUST THE PLACE FOR YOU!
Head down to 7-Eleven near the entrance of Cineleisure! WHY?!! Cuz
IT'S A STORE & MORE!
Or, you can even grab a cup of
B
EST
F
RIES
F
OREVER over at Basement 1.
NOT SATISFIED?
No worries, you can always grab a cup of frozen yogurt at
FROLICK
right next to
B
EST
F
RIES
F
OREVER. :D :D :D
Why not try Nihon Mura (日本村)???
Nihon Mura is newly open over at
Cineleisure
recently, it can be labelled as a quick bite, or even a restaurant that satisfies your tummy, depending on how you put it...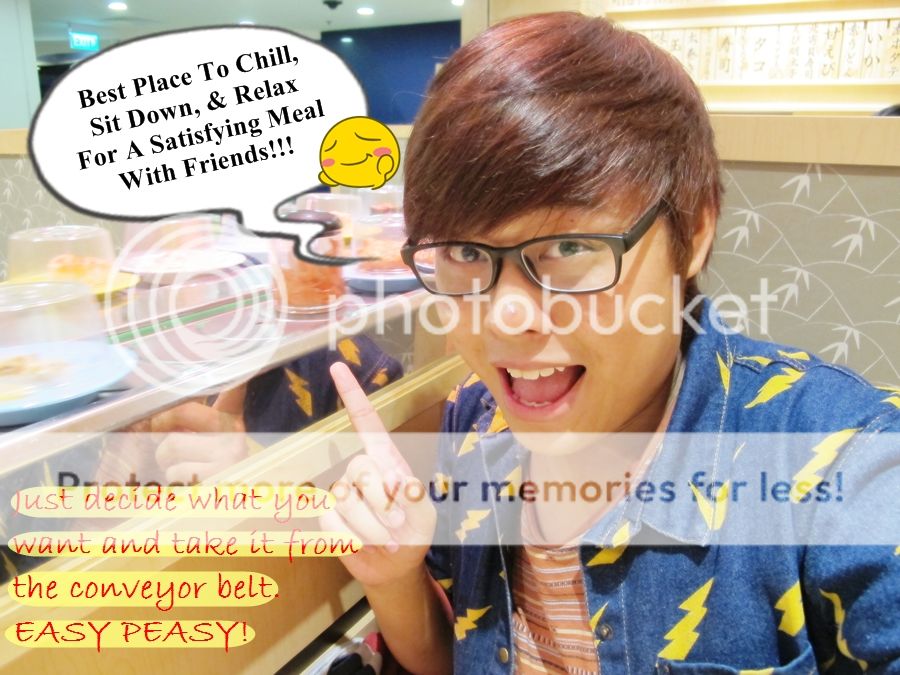 The food is placed on the conveyor belt, so to some it can be a
GRAB AND GO
kind of food, but it also can be a restaurant that satisfy your taste-buds.
NOT ENOUGH???
Shokudo (Japanese Coffee House) will always be here for you.
WHY?? YOU MIGHT ASK!
I'ts because Shokudo is operates from 11.30am - 2am (Sundays to Thursdays), and 11.30am - 3am (Fridays, Saturdays & Eve of Public Holidays).
So for those who likes to stay out late till 12midnight and often goes hungry in the middle of the night,
THIS IS GOOD NEWS!!!
Here are some of the food that we had...
***WARNING***
The following photos are not suitable for those who are dying of hunger. (XP! JUST KIDDING!!)
Tonkatsu Omu Curry Rice
Japanese style deep-fried pork loin and curry with omelette rice, Price: $14.80
The omelette taste heavenly, just the kind that I like, not watery and not really cooked,
JUST NICE!
Together with the rice dipped with the curry, it tastes as though an expensive meal that costs $30 and over!!!
Nah! I'm exaggerating, but you guys get what I mean, and it's really really good!
You guys should really try it! They have it in Grilled Chicken, Beef, Ebi Fried, and Pork Chop too.
Teriyaki Chicken Cheese Burger
Served with fries and wasabi mayonnaise, Price: $8.80
Needless to say, the teriyaki chicken meat is tender, its cooked really well, not forgetting the egg too! Best eaten together with the burger/bun/bread (whichever you like to call it).
If you don't really take wasabi or mayonnaise, you can ask their friendly service stuff to remove it when ordering, they will be more than happy to help you do so. :)
Macha Kakigori (for Singaporeans, we call it Green Tea Ice Kachang)
Green tea slush ice with Japanese red beans, Price: $5.80
For the price you pay, I can say
THIS IS TOTALLY WORTH IT!!
The ice literally melts in your mouth, and paired with the red beans.
It's like one of the
BEST COMBINATION!!!
Unlike those that you eat elsewhere, Shokudo's Macha Kakigori doesn't make your mouth dry, you know, like whenever you eat those sweet stuff, you will tend to go thirsty and such, their Macha Kakigori won't, it just makes you want to put another scoop into your mouth!
Best eaten during a SCORCHING HOT weather! :D
That's Not All!!
~~~~~~~~~~~~~~~~~~~~~~~~~~~~~~~~~~~~~~~~~~~~~~~~~~~~~~~~~~~~~~~~~~~~
Those were just a few that I've recommended. But
Cineleisure
definitely has more to offer.
So now you know where to head to when you're in need of a quick bite, or even looking for a filling meal. Now I shall end this post with a tagline that I thought of...
Savour Your Taste-buds @Cineleisure!

Cuz It's Gonna Get Sensational!!!