[Sponsored Event]
So recently I was invited by OMY to attend a food tasting event over at the newly renovated/opened Food Republic outlet at Suntec City!
YAY ME!
Met TiffanyWong at CityHall MRT Station first, cuz I was too shy to go there by myself, but nevertheless, I met new friends over there too! People like Malcolm, Jane, and Christina!! :D
So back to the topic!
We were given 19 dishes to try out and some of the dish are really out of my expectations! I mean, for me, I didn't really expect much from Food Republic but yea, they really proved me wrong!
Just a little information for you guys: Food Republic has this "Hawker Kings", and its back this year!!!
It is actually to motivate existing food operators and enhance their offerings to the public. This campaign will seek to draw out
TOP THREE
contenders of Food Republic best hawkers through stages of voting and judges' final taste test.
There will be mystery shoppers to taste and try out their food from Food Republic outlets all over Singapore, then, the public (YOU GUYS) will vote to see who will be
SINGAPORE'S NEXT TOP FOOD REPUBLIC HAWKER KING
out of the selected top 10 food outlets!
NOT ONLY THAT!
Voters will be rewarded with instant privileges and they could stand a chance to win up to $8000 worth of prizes!!!!
ME WANTZZ!
You can look up to
www.foodrepublic.com.sg/hawkerkings
, or you can even check out their Facebook page at
www.facebook.com/FoodRepublicSingapore
OR
http://www.facebook.com/7UPSingapore
for more details. :))
-Here are some tenants that are new to Food Republic and is only available at the new Suntec food atrium. They are:
1) Saravanaa Bhavan
2) Thunder Tea Rice (only in Vivocity and Suntec)
3) Gu Zao Mian
4) Zhong Hua Curry Rice
5) Baek Doo San Korean
6) Shoku Okini
~~~~~~~~~~~~~~~~~~~~~~~~~~~~~~~~~~~~~~~~~~~~~~~~~~~~~~~~~~~~~~~~~~~~~~
NOW! ON TO THE FOOD!
First up!
1) We have the
Chinatown Tan's Tutu
The ones that we tried are the Coconut flavored and the Peanut Flavored. Selling at 70Cents each! For me, I feel that it's really considered affordable for the amount you're paying and the food you get!
Both are equally nice, but most of us preferred the Coconut flavored one though, cuz it has a unique taste to it! :D
2)
Sergeant Hainanese Chicken Rice
Chicken Rice Set Meal - $6.50
Try it, to know it! :))
3)
Chai's Original Sliced Fish Soup
Bittergourd Double Fish Bee Hoon Soup - $5.00
I kinda love the soup, eventhough I'm not a sliced fish soup kinda person, the taste makes me feel very homely, like its cooked by my own mum! HAHA!
Like its a must eat when you're feeling sick kinda thing!!! ♥
Silly things that we do while waiting for our food to arrive! LOL! @TiffanyWong!!!
HAHAHAHAHA!
4)
Yong Soon Dough Fritters
Soya Bean & You Tiao - $2.60
The perfect food for breakfast! Taste super nice, especially when you dip the You Tiao with the Soya Bean!!! ♥
Here's a gif of me, capture by MissyTiffany herself! HAHAHA!
She manage to capture a photo of me rolling my eyes! HAHAHAHA!
Here's a official "CHIO" one! LOL!!!
Eunice with her
SUPER LONG
You Tiao! ♥
5)
Saravanaa Bhavan
Special Dosa (Tosai) with Masala - $4.60
Love it that they have a variety of sauces for you to dip with your Dosa (Tosai)! ♥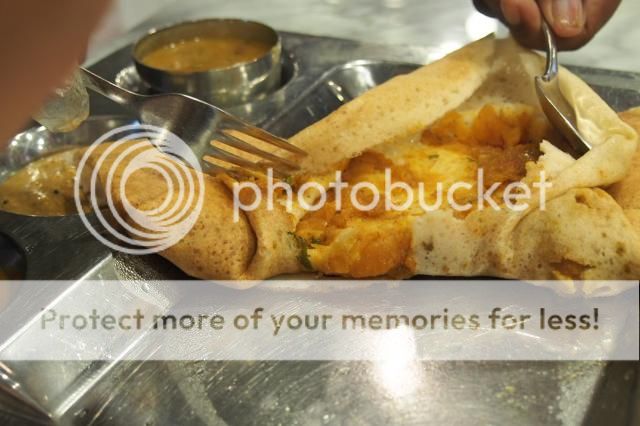 6)
Ya Fu Mini Wok Delights
Kung Pao Chicken Rice - $6.00
MAJOR LOVE
! I HIGHLY RECOMMEND YOU GUYS TO TRY THIS! Their chicken is simply delicious!!!
7)
Thunder Tea Rice
Thunder Tea Brown Rice - $5.50
This is more of a Hakka traditional food, the brown rice is hidden below the ingredients, what you need to do is
POUR ABIT
of the green tea to the dish, and mix in properly. :))
Here's Yingzi pouring
THE WHOLE GREEN TEA
into the dish! HUGE MISTAKE! LOLOLOLOL!!!
8)
Formasa Delights
Dao Xiao Mian - $6.00
The reason why its called "Dao Xiao Mian" Knife Cut Noodles is because its a handmade noodles on the spot by the chef!
Here's a gif of the chef demonstrating to us!
9)
Gu Zao Mian
No. 1 Kway Tiao - $6.00
10)
Zhong Hua Curry Rice
Curry Chicken - $5.00
11)
Guan Chee HK Roasted Duck
5 Combination Platter (Duck, Char Siew, Pork, Chicken & Sausage - $28.00
Worth the price, and best if you're having a family dinner! Cuz I'm a meat lover, and so this dish is like one of my favorite!!! ♥♥♥
12)
Baek Doo San Korean
Seafood Tofu Soup - $6.80
Love the soup! If you're a fan of Tom Yum, you should really try this dish! AND LOOK AT THE EGG!!!!! ♥♥♥
13)
What You Do Prata
Chicken Briyani Set - $5.50
I kinda find their shop name unique! Haha! Definitely capture the attention of those blur sotongs that doesn't know what to eat when they're there! :D
14)
Miso japanese
Chicken Teriyaki & Salmon Bento - $6.80
Love their Teriyaki Chicken! Eventhough I'm not a fan of grilled salmon, but check that out!!!
Salivating much?!!!
15)
Fortune Food
Popiah - $2.00
We were given the one with chilli and also the one without. If you're a chilli lover, I
highly recommend
you to get the one with chilli, cuz its REALLY SPICY! No kidding!!!
If not, just get the one without chilli, but with no doubt, the one with chilli will taste nicer! What you need to do is just spam water after eating it! HAHA!
16)
Fu Lin Yong Tofu
6pcs Meal - $5.50
17)
Toast Box
Peanut Butter Thick Toast - $1.70 (ala carte)
PEANUT BUTTER!!! ♥
18)
Gazza Pasta
Spaghetti Creamy Mushroom & Salmon - $6.80
Pasta lovers, YOU HAVE TO TRY THIS!!!
19)
Shoku Okinia
Kushikatsu 7-Stick Set - $24.50
~~~~~~~~~~~~~~~~~~~~~~~~~~~~~~~~~~~~~~~~~~~~~~~~~~~~~~~~~~~~~~~~~~~~~~
Well!
That concludes the dishes that we tried for the food tasting @ Food Republic Suntec City.
Overall, I find that it will be nice dining over here with your friends or families, if not for this food tasting event, I wouldn't have know that Food Republic has stalls that sells PASTAS!!
This food tasting event is definitely an eye opener for me! Thank you so much for this opportunity! ♥
Thank you Alvin, Eunice and Jesslyn for having me there! :D
Now, I shall end this post with a group photo!
Cheers! dOnnlicious`