Finally It's Over
YES! This post is gonna be about the Cineleisure's Next Online Sensation version 2.0.
It's like, finally its over!!! All the sleepless nights we have chiong-ed! All the panicking and stuff...
On the day itself
30th March 2013
Woke up feeling super excited as its the finals for CNOS2! Having mixed feelings as well, cuz throughout this whole month, I've made many new friends and also, gradually became closer to all of them. Come to think of it, I wished this competition will still continue for another month!
HAHAHAAHAH! *kiddinggg*
Getting ready to head out!!! Here's a selca! :D
So for the last and final challenge, we were given $10 voucher each and 4hours get accessories from Beadstreet to accessorize ourselves. After that,we are required to
*STRUT OUR STUFF
at the red carpet and do a runway walk!
On my mind I was like going; "YES! RUNWAY WALK!!!", if you guys haven't know me yet, I'm a HUGE fan of America's Next Top Model and Miss Tyra Banks! Sooo yea!
SO FOR MY FINAL LOOK! VOILA!
The accessories that I got from Beadstreet are:
- Chain Neckless: $2.90 each, I bought 2 and did layering, Kudos to Amanda (MsPetiteLoft) for helping me with the layering and accessorizing.
- Bracelets: $1.90 each, but they're selling it 3 for $4.90!
- Shades: $5.00
OHYAH!
and I overspent by $2.90! The total costs for my accessories is $12.90! xppp!
My look is super Willabelle Ong inspired! LOVE HER TO DEATH!!!! She is my current fashion inspiration!!! ♥♥♥
And so the competition goes on, and all the contestants did their runway walk! I was just having my own time and having fun at the runway walk! It's like, how many times can I get to strut my stuff at a red carpet event??!!!
Was super happy that Cineleisure and Nuffnang had given me this chance! Thank you so much!! :D
~~~~~~~~~~~~~~~~~~~~~~~~~~~~~~~~~~~~~~~~~~~~~~~~~~~~~~~~~~~~~~~~~~~~~
Also Took Photos With All The Contestants
So sorry if the photo and quality is super shitty, I was wearing shades and couldn't really see, so yea, my apologies...
- With Vivian & Clinton (I prefer calling him "Clinty" though, idk why?!) haha! xp
Super cute and adorable couple! Both of them really have the "Fu Qi Xiang" hahha!
I still remember Vivian commented that she liked my video for the very first challenge (The Food Challenge), haha! The complement really means alot to me!!! Definitely a confident boost!
As for Clinty aka Cliffton! HAHAHA!
Didn't know he will be this friendly and outgoing bcuz *erhem*, but to my surprise, he is really a super nice guy! Definitely your brother brother kind of friend!
CHEERS TO YOU! Will be celebrating your birthday soon! Hahaha!
- With Huixin x2 (huixinhuixin)
Super jealous that everybody wants you siaaa! Even MyApplePie (Angie) also want you!!! :(, But i think this competition is a complete mindblowned for her!
Cuz
Jourdain
turns out to be her Secondary School Classmate, and only to found out during Challenge 2 (Entertainment Challenge) that I actually lived 3 blocks away from her!!!
TOTAL MINDBLOWNED!
- Katriel
THE FIRST EVER CONTESTANT THAT CAME TO TALK TO ME!!! HAHAHA! She's super friendly and bubbly! Congrats on winning best footage award! You really deserve it! Cuz your first video is super cute!! ♥ haha!
- Cheryl
Didn't really talked much, but I'm so glad she is still willing to take a photo with me, haha! Must smile more! You look prettier when you smile :)
SHINY BRIGHT YELLOW POPCORNS FTW!!! ♥
- JoJo
I really like her video for the Entertainment challenge! Especially the part where you keep pushing and hitting your sister away! haha!
Please continue to do such videos!! Will be following your blog! haha! And congrats on winning Best Script Award! :D ♥
- Angela
First impression of her when I saw that she was one of the shortlisted contestant was. WAH! AH LIAN!!
But it turns out that she
IS NOT!
, infact, she is so much nicer as she looked on photos! Thank you so much for sharing your answers with my group for the decoded race. Wouldn't have pass the first station without you guys!
THANKS A MILLION! ♥
- Pamela (photobombed by Angela) haha!
Other than me being a past year contestant, pamela was also from CNOS1! Haha! I know her cuz she is super memorable cuz of her very korean looking look!
PLUS! This photo of her below vvv makes her look like one of my favourite blogger (TammyTay from Ohsofickle)!!!
Okay! Shall fanboy Pamela from now onwards! HAHAHA! ♥
- Amanda
Very motherly!!! Haha! She looked really pretty in person!!! Couldn't thank her enough for helping me out for the last challenge!
Helping me in choosing the accessories and helping me do layering and finding rubber bands in a middle of a huge crowd before the event is starting! Thank you so much!!! ♥
- Noelle
THE SUPER DUPER POWERFUL SINGER! Finally get to hear her sing live!!! SUPER AWESOME!!!
Initially i thought "Mikazuki" was just a nickname she used, until Damien (UncleTehPeng) told me that's her real name!!!
Hope your sore throat gets better soon! And all the best for your dream of releasing an album!! JIAYOU!
- XueLing
A very sweet girl, haha! Thank you so much for exchanging with me your BFF vouchers! haha!
Keep smiling! Whenever you're feeling down or whatsoever, remember, you have us on KAKAO! You can always talk to us over there! Cheers! Stay happy! ♥
- Ziwei
My super duper awesome team mate for The Decoded Race! Always Tahan-ing me nagging on whatsapp! LOLOLOL!!!
Everytime I think of her, I will think of her running into Cineleisure to find a OOTD (for her Challenge 3 the fashion challenge).
But still, she's a funny person la, and you're not old!!! andandand "Bu yao" put me an Angie together le la, later she shy leh!!! HAHAHAHAH!!!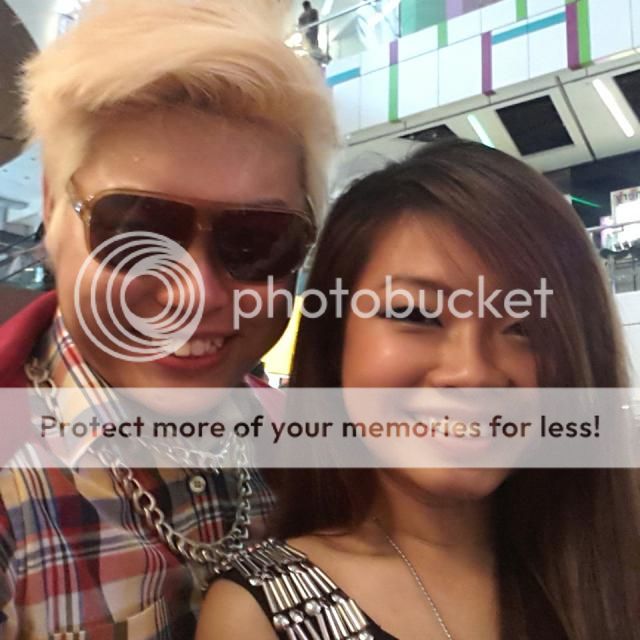 - Tiffany Wong
REALLY SUPER SORRY FOR THE VERY CUI PHOTO!!! I'm really sorry....
But anyways, i love the way she talks and replies people, super got
SWAG!
haha!
Just really wished we could have talked more... :(
- Jasmine
Super friendly, everytime we bypass each other when we're doing our challenges at Cineleisure, she will confirm say hi one!
HAHAH!! Jiayou ah!!! Study hard, and go to poly!!! :D
- Jaelyn
I REALLY LOVE YOUR NAME!!!! Cuz it's unique! haha!
Both you and Jasmine must study hard ah!!! Do your best!!! Jiayou!!!
Can't wait to see you tweeting about your progressing your studies to poly, the both of you! :D
- Shanell (Left) & Janice (Right)
Tried to blend in with 2 of this girls but failed so terribly. HAHA!
Anyways! First impression of Shanell was that, she looked like the model from the blogshop that I buy my clothes from! Till now I still have no idea whether is it her... :(
BUT HEY GIRL! You're beautiful! Stay pretty!
As for Janice, lots of things had happened throughout, and I really understand you. What I can say is that, let bygones be bygones.
I mean, we all will make mistakes at some point in our lives, what we can do is just to accept, learn and move on....
I'm sure you don't need CNOS to be on top, you really have what it takes! All the best in whatever you do in your future!
JIAYOU! Don't forget me when you become famous ah! HAHAHAHA! ♥
- Damien aka (UncleTehPeng) He prefers to be called that.. xp
Have some confidence in yourself!!! haha! You look super cute on stage! I really wanna bring you home!!! hahaha! XP!
Anyways, Jiayou ah! Work hard! Study smart!
Remember what I told you when your school start, be nice to everyone and try not to make enemies :))
All the best, and keep blogging on all the delicious food! GAMBATEHH!!!
- Jourdain aka Mine,Clinton,Pamela and Ziwei's scandal
Made an impact on me ever since his challenge 2 video! I KNEW YOU WERE TROUBLE WHEN YOU WALKED IN!!! HAHAAHAH!
Congrats on winning Best Humorous Award! YOU REALLY DESERVE TO WIN HANDS DOWN!!!
Please do continue to make such entertaining videos and blogpost! I'm sure you'll be the next top vlogger/youtuber!
COX YOU'RE AWESOME!
- Tiffany Yong
Sorry didn't take photos with you on that day... Really sorry...
Anyways, thanks for being so supportive of me! Really love your groups ideas for the decoded race challenge, make me laugh whenever I'm watching it without fail!!!
And really thank you so much for helping me conquer my fear of *ERHEM* back at Genting, don't post out my video ah!!! HAHAAHA!
- Natalie
Nah la! For you! Cineleisure's Next Online Sensation! hahahah! Really sorry I didn't take any pictures with you.. :/
Forever hyper and never stop jumping and screaming around!!!
All the best for your "O" levels this year! Make sure you get all A's ah!!! hahaha!
JIAYOUU!
- Eugenia
Read your blogpost! So glad that you didn't give up eventhough your score wasn't the best, but no worries, doesn't mean one failure = you will fail forever!
Try again! Someday, you'll be there!!! JIAYOU!!! *FLICKS HAIR* ♥
- Shenny aka SHEN!!!
HAHAHAAH!
Still can't believe you never give chance siaa! LOLOLOL!
Win a $919 Nikon camera liao still not enough, Win 2nd runner up STILL NOT ENOUGH!!!
In the end come and win another Overnight Sensation Award!!! HAHAHAHAHA!
But anyways, congrats! You really deserve it, after all the worrying and stuffs. Cuz you really put in ALOT of effort in your posts and videos... :D
- Joey aka BLURJONG! HAHAHA!
LOVE LOVE LOVE ALL THE VIDEOS THAT YOU DID!
Hate that you look so appealing in videos! hahaha! XP!
CONGRATS FOR BEING THIS YEAR'S CINELEISURE'S NEXT ONLINE SENSATION!!!
YOU GO GIRL! YOU OWN THE STAGE!!! Don't forget us when you're popular ahh! We're all waiting for your treat!!! TEEHEE!
Ohyah! Don't be disheartened if your parents disagrees with you blogging, trust me, you'll be there someday!
DON'T GIVE UP!!! WEISHJONG FTW!!!
LASTLY! HOW CAN I FORGET?!
MyApplePAIIII!!!
(Idiot! Why U No come for the finals?!!)
Thanks for sacrificing your precious time for me!! Thank you for all the tips that you've advised me for my videos, and thank you so much for helping me out for each and everyone of my videos. Without you, I wouldn't have come out with all the videos that I've done...
XieXieNi MyApplyPaiii! Thank you so much! Really, eventhough you have I've lost your phone cable and you've lost my Energizer portable charger. But we didn't really quarrel over this.
YET!
You still continue helping me, and also bringing me to Genting Highlands (MY FIRST TIME GOING THERE) and Demi Lovato concert (XIEXIENI)!
LOVE DAI YOU!!!
#TeamPuck FTW!!!
~~~~~~~~~~~~~~~~~~~~~~~~~~~~~~~~~~~~~~~~~~~~~~~~~~~~~~~~~~~~~~~~~~~~~
Now on to our fellow judges!
Qiu Qiu
Thank you for being so supportive of me, even when I'm performing!!! HAHAHA!
Makes me feel super loved!!! Really appreciate it!! ♥♥♥
Peggy (Left) Beatrice (Right)
I still remember the very first time when Andy told me about Beatrice (for their sponsored trip to korea), I pronounced Beatrice as Beat Rice! Now I'm really ashamed of myself... :(
Ohyah! To my surprise, Peggy is from Ang Mo Kio Secondary, and Beatrice is from Temasek Poly! HAHAHA! Both are my senior!!!
WOOTS! ♥
Rachell (PxdKitty)
Really wished she would come that day, wanted to take pictures with her, but I guess she's busy or tired after grading our Decoded Race challenge for the whole night... XIN KU NI LE!!!
Don't have any pictures of Rachell so I just screenshot her header from her blog, hope she won't mind... :/
~~~~~~~~~~~~~~~~~~~~~~~~~~~~~~~~~~~~~~~~~~~~~~~~~~~~~~~~~~~~~~~~~~~~~
Now To The People I Wanna Thank
FIRSTLY!
- Le Cousins!!!
They say there were too hungry to wait for me cuz I'm busy taking photos with the rest, therefore they left for dindinz already... :(
So here's the "most recent" picture I have with them...
Thank you guys so much for coming all the way down to support me, eventhough blogging competition isn't some of you guys things, but yea, you still came down and watched everything from start till end, really really appreciate it!!! :')
SECONDLY!
- JiayuYOUBIATCH!
Thank you so much for lending me your Nikon D90 for the WHOLE OF THIS COMPETITION!!!
The moment when I heard she's lending me her DSLR for the this competition I was like, ARE YOU SERIOUS?!!! Because We barely know each other for a year, and she is willing to lend me such an expensive camera!!!
Really, all the beautiful pictures wouldn't be up here if not for her Nikon D90! THANK YOU SO MUCH!!!! :D
AND CHUNCHUAN!!!
Just realized I NEVER take a single picture with you before, but I really wanna thank you, for your non stop support, and never give up on me despite knowing where I came from!
THANK YOU SO MUCH!!! :')
THIRDLY!
- These BITCHEZZZ!
Thanks for sticking with me for so long eventhough I, or infact WE annoy you always Zizi!!!
Really thankful that I have you guys with me!!!
FOURTHLY
- Alan, Sherie and Susan (not in picture)
Thank you for coming all the way down to support us (me and tiffany), eventhough we just know each other for 2days only, but you're still so supportive!!!
Thank you guys so much!!! :') ♥
Lastly
- THEM!!!
For putting up my nonsense all the time, my bitchfit and all! Encouraging me, Suan-ing me telling me I won't win and all! YET! I still did it!
They are my happy pills! Love them to bits!!! They made up 1/4 of my life!!! hahaha!!! ♥♥♥
~~~~~~~~~~~~~~~~~~~~~~~~~~~~~~~~~~~~~~~~~~~~~~~~~~~~~~~~~~~~~~~~~~~~~
AND NOW! Photos Taken That Day!!!
With The Boys!
Still can't believe I'm the oldest among them!!! :(
With the beautiful Pamela and Angela!
SUPER LOVE IT THAT THE THREE OF US LOOKED SUPER GOOD IN THIS PICTURE!!!
My hair for that day!
Photo Credits to Angela, she always seems to capture the good side of me! HAHAH!
Didn't know my hair (back) looked that nice on that day!!! OMGGGG LOVE!!!!
After the event ended, we had our dinner at Seoul Garden Hotpot, thank you so much for sponsoring us for our dinner!!! It was great! Really love it!!!
I had Chicken Bulgogi Bap
LOOKS SUPER TASTY RIGHT?!!! Salivating much?!!! HAHAHA!
A proper picture with Eugenia and Jaelyn!!! :D
Here's a gif that I did, because I asked Jourdain, Pamela and Noelle to take a picture together, but Pamela (for no reason) giggled and laughed, LOLOLOL! And it was all taken, kudos to Shenny the photographer! HAHAH!
SEE! She's the only one that moved! HAHAHA!
After our dinner, decided to take a few more photos before leaving the place...
With the CNOS2 Bloggers! :D
A nicer and clearer and Chio-er picture with Katriel :)
Us! With the hosts of CNOS2, Charlene and Skye! :D
DEFINITELY MUST TAKE PICTURE WITH THIS BEFORE LEAVING THE PLACE! HAHAAHAHA!
Was feeling kinda sad when we're about to leave the place, will definitely miss all the fun that we had shared throughout this whole competition!!!
Thank you so much, Nikon D90! Xin Ku Ni Le!
Now its time to return you back to your rightful owner... :')
Now before I end this post, lemme show off abit... HAHAHA!
- 1sr Runner Up for Cineleisure's Next Online Sensation Version 2.0
- Winner for Challenge 5 (Strike A Pose @Cineleisure)
- 1st Runner Up for Challenge 2 (Entertainment Challenge @E2MAX)
This I really have to thank everyone, cuz without them, it wouldn't have been possible for me to come out with that video, so thank you guys so much, for willing to help me and be a part of my video...
***Edited
Incase you have missed it, here's the video of the runway walk, and the prize presentation, kudos to
Kelvin
who took and uploaded the video, million thanks :) ♥
The Runway Walk
The Prize Presentation
Well, that sorta sum up my journey for my CNOS2, really sorry that I didn't post anything on CNOS1, cuz this post on its own is already quite long... Soo yeap!
NOW TO END OFF THIS POST!