Hello Everyoneee!
For the whole of this week I'll be posting the outfit that I wore, and also the things that I bring to school or out on that particular day!
Just to let you guys know abit more about me I guess? Hahaha!
So without further ado lets goooo!
Actually I think I everyday also wear the same one leh!!! Hahahah! Nothing much special also! LOLOL!
My Outfit For Monday!
I only have 1 Tutorial and 1 Lecture, both is 1 hour long! So I don't feel the need to really dress up la! Cuz I'm going back home after school anyways! Hahah!
If you guys don't know yet, I study at Temasek Polytechnic Diploma in Marketing by the way! Haha!
Top and Bottom both from Cotton On which was bought eons ago! Hahaha! I think I dress more for comfort leh! Don't really dress fancifully! Hahahah!
Canvas Shoes from
Zapilicious
and Bag from
VOLTA!
NOW FOR A WHAT'S IN MY BAG!!!
I bet some of you *KPO'S* out there are quite curious what I bring to school or go out right?! Hahahah!
Now I shall reveal everything to you! LOL!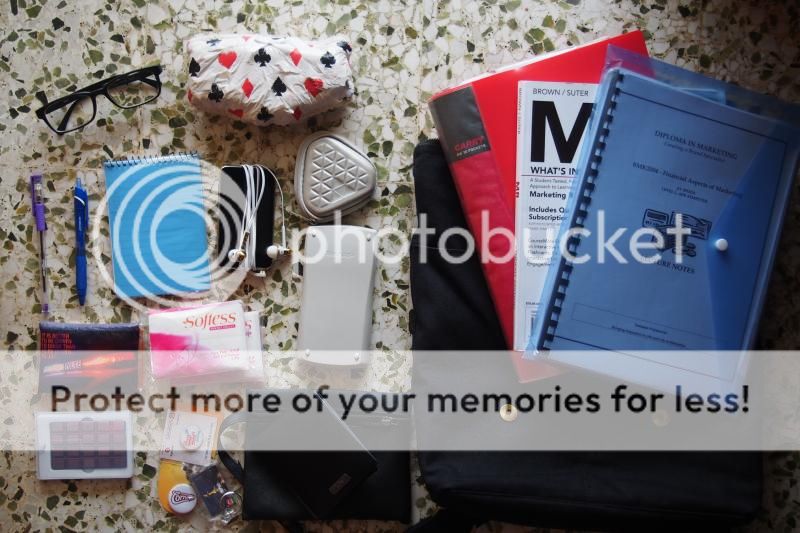 [1]
My Bag! Which has all my lecture notes, files and textbooks la! Which is basically what I bring everyday!
Marketing Lecture today yo!
[2]
My Purse and Wallet!
The Purse comes with a clutch that I bought from Bugis Street! YES BUGIS STREET IS THE BEST! CUZ THEY SELL LOADS OF STUFF WHICH COMES IN REALLY REALLY CHEAP PRICES!!!
Whereas the wallet was a birthday gift given by my ITE friends, namely (Kamy, Christina, Huicheng and Jonathan)
LOTS OF LOVE! ♥
The reason why I brought a purse along with a wallet is because my wallet has got no coins compartment, so the purse is to throw all my coins inside and all other miscellaneous stuff la, such as receipt and panadols! Ohyah! And my house keys! Hahaha!
[3]
USB Flash Drive aka Thumbdrive!!! Need me to say more? #LifeOfAPolyStudent
Ohyah! Incase you guys wanna know, I got this USB Flash Drive from CNOS 1! Hahah!
[4]
Tissues, Tissues, and more Tissues!
HAHAHAHA!
Alot of my friends have told me that I'm one of those rare guys that brings tissue paper out one! Reason being, I ALWAYS have running nose one, I HAVE NO IDEA WHY?! I think its just in me?! Or maybe I'm diagnose with some disease? I DON'T KNOW?!!!
But yea! I'll always standby 3-5 packets of tissue paper in my bag one, and oh look! I'm left with 2 packets! TIME TO TOP UP!!!
[5]
SHARP Scientific Calculator! Followed me ever since Secondary School! Hahaha!
It is used for my
Financial Aspects Of Marketing
module one la! I hate that module, cuz it has got to do with numbers and I'm someone that hate calculating numbers, that is, if you're not talking about *KA-CHINGZZZ* $$$ la! Hahahaha!
BUT BUT BUT! I love the lecturers/tutors! LOVE YOU MS SAMMIE!! ♥
[6]
MY SEXY-LICIOUS PANTY PENCIL CASE!
Hahaha! Don't judge me! I bought it cuz its cute! Don't you think so?! LOLOLOL!
But on a depressing side, its torn and wrinkled! It looks as though its being ripped by some psycho who has fetish for panties!!!
[7]
My iPod Touch and Beats by Lady GaGa 2nd Edition!
iPod was won from some Singtel/Nuffnang blogging contest like 3 years ago, and the Lady GaGa earpiece was a birthday gift from my dearest
QPAOS
2 years ago! ♥
[8]
Pens and Notepad *kope* from friends!
Like what my baby (Kamy) used to say, "I have everything you need in my pencil case, 99% of it isn't mine" LOLOLOL!!!
[9]
Some *chapalangs* that I got from people. Hahaha! I'm quite a lazyass! Its like, I'm too lazy to dig these stuffs out from my bag! Yeap! That's me for you! :D
[10]
My EZ-Link card aka BUS CARD!!! As what most Singaporeans call it!
[11]
My handy dandy spectacles!
No words could describe how much I can
NEVER
survive without it! I still remember a few weeks before that I had a presentation to do during a 9am tutorial, and was supposed to meet my groupmates at 8am to rehearse before our tutorial. But god knows why I overslept, so I was panicking so badly and rushed out of my house without realizing that I've forgotten to bring my spectacles until I was on the cab to school.
P/S: I also forgot to take my allowance from my living room table also! LOLOLOL! Everything just happened in a sudden rush and my mind was running, so the thought of taking the allowance and my specs didn't really came onto my mind.
You guys don't know how bad it was to survive the day at school without my spectacles! But thank god to Victor, my awesome saviour! He lent me his spare spectacles so that I can see during my lecture!
GOD BLESS! ♥
[12]
Something that everyone cannot live without! Hahah!
My awesome Samsung Galaxy S3! A birthday gift last year from my Dad!
hahaha! But it was never awesome ever since the last update! It literally drained my handphone's battery life LIKE MAD!!!!
Usually when I was out, my phone can last me more than a day! But now, whenever I'm out, it doesn't even last for 6 hours!!!
ACTUALLY...
I still have my portable chargers which I didn't post the pictures of it. One is
Energizer
and the other was is from
Giant
which my Mom got for me from her company's lucky draw! Hahaha!
OKAY!
I shall go study for my re-test now! Feel so sucky to have to retake a test!!! :(
But I'm so thankful that I have understanding groupmates! Its like, they always encourage me someway or another! Feel so blessed! :D
But sometimes, I feel like a burden to everyone....