[Sponsored Event]
Welcome to part 2 of the Tampines 1 food trail! If you haven't read part 1, here it is:
http://www.donnlicious.com/2013/10/tampines-1-food-trail-part-1.html
So without further ado, lets get started on part 2 of the food trail!
MOF @ Izakaya/Ama Soy
Location: #04-15
Opening Hours: 11.30am – 10pm daily
Contact: 6784 5156
Was welcomed by the cozy environment at MOF @ Izakaya.
First, we had Iced Matcha Latte. Premium Matcha powder blended with softserve and milk. It's rather tasty and it doesn't taste completely like Matcha!!! This is one of the restaurant's signature drink!!!
Then, we were served with the food! Its mostly in seafood, so I can only taste like a very small portion of it. (I'm allergic to seafood :/)
BUT THAT ASIDE!!!
I really love the salmon!!! I don't know why for some reason I can eat Salmon, eventhough its considered seafood too. IDK IM WEIRD!!!
Fish & Co
Location: #04-11
Opening Hours: 11.30am - 10pm
Contact: 6260 0183
NEXT ON THE LIST WAS FISH&CO.
This outlet at Tampines 1 is double storey, which is kinda good I guess?
Double Storey = More Space = More Seats Available = Lesser Waiting Time. :D
JCO Donuts & Coffee
Location: #01-08/09/10
Opening Hours: 10am - 10pm
Contact: 6781 9798
UP NEXT IS J.CO DONUTS!
To be honest, I've never tried J.Co Donuts before. Thank You Sherie for letting have my first taste of it! Hahaha!
ANYWAYS! I didn't know J.CO sells smoothie and yogurts as well! Definitely an eye opener!!!
J.POP'S BABY DONUTS
Coco Loco Donut
LOOK AT THAT CHOCOLATE FILLING! OMG! IM CRAVING FOR IT ALREADY!!!
DeConti Caffe & Gelato
Location: #02-K2
Opening Hours: 10am - 10pm
SAVING THE BEST FOR THE LAST!!!
We had so much over at this last stop! Whats' more, the staff over there is really friendly. :D
A conducive environment for studying while having an awesome beverage and bites available, there is no reason not to come here! :D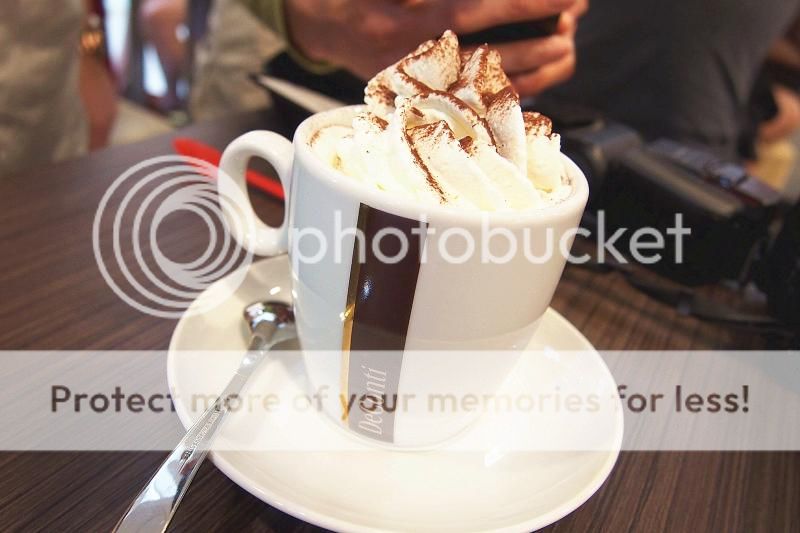 Ending the food trail with a group photo! Tampines 1 is just located right beside Tampines MRT Station. Once you tap out of the gantry, exit through the right and Tampines 1 is just standing right infront of you! :D
Lastly before I end this post, I would like to thank Sherie for this wonderful opportunity to attend this food trail! XieXieNi :D