[23rd September 2013]
Unknowingly, its the 4th day! We're halfway through the trip already, and I'm slowly getting used to this kind of life! Hahah!
Took a last photo with our Hello Kitty Room before leaving, because we (the boys) will be moving to another room with another theme (YAY US!)
Had a little bit of bitter and sweet feelings before leaving though! Hahaha!
Here's a photo of my luggage! :D
YOU SEE! ITS SO NICELY PACKED! HAHAHA!!!
ITINERARY FOR DAY 4
Gonna be a long day travelling to Jiu Fen (九份) and Shi Fen (十分). Didn't had breakfast before that, and also didn't buy any food from 7 Eleven because I thought I'll be having Bento on the train but NO! I didn't. :(((
Took the metro down to Taipei Main Station, alighted and walked to this area to buy our tickets to Rui Fang Station, they sell the tickets via the timings though.
We bought our tickets for the 12pm train, and by the time, we only have 11 minutes to find the train platform. NOT KNOWING WHERE ITS LOCATED, but the rest of my friends remain chillax though. Hahah!
The train tickets costs 75 NTD so its approximately $3 SGD+++???
Actually you see car and seat number right, its quite rubbish la, alot of passengers just anyhow sit (provided that the seat that you randomly chose has got no one sitting la). I also just randomly sat beside my friend.
If someone came to you and tell you that is their seat, just move to the other one, because there's plenty of seats available! :D
Their train platform are so vintage looking! I mean, you don't find it in Singapore, do you?! Haha!
HERE COMES THE TRAIN!!!!
:D:D:D
Here's how the train looked like, INSIDE!
Reached Rui Fang Train Station (瑞芳車站) like finally! After around 40 minutes? So I STRONGLY advice you guys to grab something to eat before boarding the train. NOT GOOD TO SKIP YOUR MEALS, ESPECIALLY BREAKFAST!!!
Walked along the streets to find food but none of them are open or looks appealing to me (TOLD YOU BREAKFAST WAS IMPORTANT), therefore I just passed, decided to hold on a little longer till we reach Jiu Fen (九份).
Took the public bus, which will take us all the way to the mountain top (Jiu Fen 九份). The trip up the mountain was breathtaking! Definitely an experience! Its so much better than taking cab luh! Haha!
What's more, public buses are so much cheaper! It costs only 15 NTD, less than $1 SGD!!! :D
Here are some photos I took when I'm at Jiu Fen 九份, the view is BEAUTIFUL!
REALLY IS CHIO ONE LOR!!!
AND I EVEN TOOK A INSTAVIDEO OF THE MAGNIFICENT VIEW!!!
Walked around and shopped for some souvenirs. But not much things la to be honest, unless you're looking for really vintage stuff??? Like those old school toys, or their local delicacies?! Then 九份 is the place for you. :)
Tea eggs cooked in a well!!!
A VERY BIG WELL!!! Haha!
Bought this fried chicken bits initially thinking that it would taste nice. Well, the first few bites were good. Not until you kept eating. There's this powder that they mixed it in the chicken that sort of numbs your tongue and lips and makes you extremely thirsty. So yea! Maybe you can tell the person you don't want the powder, just the chicken bits alone will do.
Me looking super CUI! Because I was hot and sweaty and gross, and I have something under my eyelid which was kinda painful, that explains why I didn't wear my contact lens and I ended up looking so ugly! HAHAHAHAHA!
MANAGE TO BUMP INTO MY FRIEND!
She went to Taiwan with her school though.
SEE! YOU CAN STILL BUMP INTO YOUR FRIENDS EVEN WHEN YOU'RE AT OVERSEAS HORRR!
Yes! The world is just that small! Hahaha! But sadly I didn't meet/find/bump to Noelle (NoelleMikazuki) throughout my whole entire stay at Taiwan though. Somemore we stayed at the same area (Xi Men Ting) lor!!! LOL!
Another breathtaking view!!!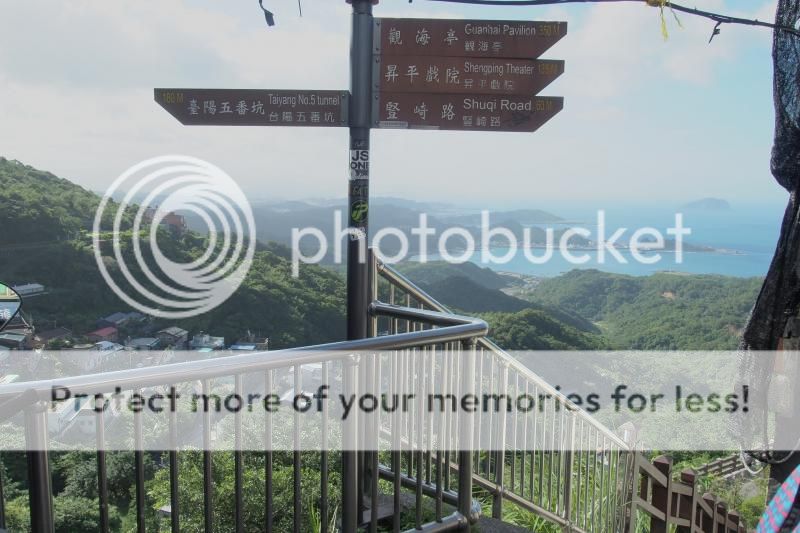 GROUP PHOTO!!!
♥
ME, MYSELF, AND I
Some shops do sell interesting things. Like this shop, it sells PAD PACKAGED LOOKING COTTON CANDY. Hahaha! Damn interesting!!!
After we're much done, we bought the things that we wanted to buy then its off back down the mountain and to Rui Fang Station.
Bought tickets from to 十分, taking via Pinxi Line. We didn't know the waiting time was 15 - 30 minutes long, and we end up going to the platform too early. So yeap, we just sat and rot there.
While waiting, my friend took this for me, and I made it to a gif. :D
How can I not take a OOTD shot having such beautiful background?! Hahah!
Adding on that I have "the time" to retake and retake until I get a nice shot! Hahaha!
WITH THE WIND IN MY HAIR YO!
WERKING IT!!! HAHAAH!
Around 15 - 30 minutes of train ride, we've finally reached 十分, the sun have already set by the time we reached. Walked around and the main purpose for us coming to 十分 is to 放天燈. To write wishes and do it the traditional way in Taiwan. Haha!
My forever hungry friend forever finding food to eat. Haha!
Then we stopped by at the first stall, because there's like practically stalls selling 天燈 everywhere!!! If I didn't remember wrongly, I think I saw Shawn Tok over there as well, but heck, he used to be cute when he was in CSS. Not anymore though. Nah! Who am I to comment.
ANYWAYS! I didn't know different colors of the 天燈 have different meanings! For instance, red is like wealth and such, then blue is for work related and such.
I swear to god the uncle that helped us take this photo was a lousy photographer. The photos are all blur and eeew.
<
After that, its time to head back, but there are timing for trains to arrive and such, so yea, we end up waiting for 30 minutes for the next train to arrive, some of us were hungry, so we went around looking for food.
Bought sausages in the end, well its edible though, NOT VERY NICE, but edible. But heck, everything also edible if you're hungry! Right?! Hahah!
Back to the train platform. Everyone was beat and tired.
I didn't know there was such a thing! Hahaha! REALLY?!!! A waiting zone for only females?!!!
Spot 2 kitties on the train platform area, I think they're the cats of the shop owner located at the train platform. There's collar around its neck, so I supposed its not stray cats right??!!!
Board the train, and the journey was even longer than the one we came from Rui Fang Station! Its almost an hour till we reached all the way to Taipei Main Station.
REACHED BACK AT OUR HOSTEL AND WAS REALLY LATE LIKE PROLLY 10PM++???
HAHAHAHA!!
Okay, maybe not! Checked out our room and its "ANGRY BIRD" themed! The remaining days of our stay here in Taiwan will be in this room! :D
From our previous encounter at the Hello Kitty room, I wouldn't dare to put much high expectations anymore, but check out the room!!! ITS DAMN GORGEOUS! EVERY SINGLE DETAIL! ITS SO NICE!!!
I was still telling my friend there's clock somemore, don't need scared wake up and don't know what time it is anymore, until my friend told me that the clock is spoilt.
-.-
MAJOR FML!!!
Bathed and went down to get supper! Then when the clock striked 12am....
HAPPY BIRTHDAY TO MEEEEEEEEEE!
:D
It was also the birthday of a friend of mine, we shared the same birthday but we're 3 years apart. Hahaha! It was so epic when we both found out we had the same birthdays! LOL!
Was presented with this, totally didn't expect it. Hahaha! YOUR NEXT SHINING STAR YO!
LOLOLOL!!! Thank you Minglong and Keekhimaoo for planning this also. :')
Thank you everyone who've had wished me, via whatsapp, text messages, facebook messages, instagram, twitter, phone calls, face to face, calling me for dinner but end up celebrating for me in advance and etc. Thank you guys so much. It makes me feel that I'm being remembered and that I still do exists in people's heart.
:')
I don't know, I don't think I;m a good friend myself, and that having you guys by my side just makes me feel so special.