[22nd October 2013]
Its day 3 now! This is how the boys bed looks like early in the morning! Hahaha!
Had a morning shower, freshen up myself and get ready to start our 3rd day in Taipei! :D
Also, before heading out, we're waiting for the girls to come to our hostel, because they're staying at the first hostel the previous night. So yeap! While waiting for them to arrive, we tune in to our teevo to see what shows are there for us to watch, and BAM! There's Crayon Shinchan! ♥
After the girls came and put their luggages at our room, (because they can only check into their room at a later timing), we then set off to have our breakfast.
Here's our itinerary for day 3!
Gonna explore the whole of Xi Men Ting for that day :D
Settled our breakfast just opposite our hostel.
Japanese Curry Omelette Rice! ♥
I find that the price are rather reasonable??? I mean, where can you get a side dish (Chawanmushi), a drink (Coke), and a main dish on average of $6 at a restaurant in Singapore?!!! Excluding McDonalds, KFC's and other fastfood restaurant that is. Hahah!
Made payment after we're done eating, and its time to SHOP!!!! :D
While walking around, we saw an open area concert/fan meet with Raine Yang! HOW LUCKY?!!! But sadly, I didn't get a shot of her. :(
I don't know....
I think I'm losing my neck!!!! I'm depressed! T.T
ANYWAYS!
Walked to the central junction of Xi Men Ting, and we saw another fan meet again, this time round its Popu Lady.
I REMEMBER THEM FROM THE SHENG SIONG SHOW!!!
STRIKING A POSE WHILE WAITING FOR TRAFFIC LIGHT!
Fierce x Flawless x Fabulous
My friends wanted to go visit the Stay Real store at Xi Men Ting, intially, we had a hard time looking for it, so we just practically anyhow walked around, and somehow we manage to find the shop. MIRACLES DO HAPPEN!!!
My happy friend with her loots! Hahaha!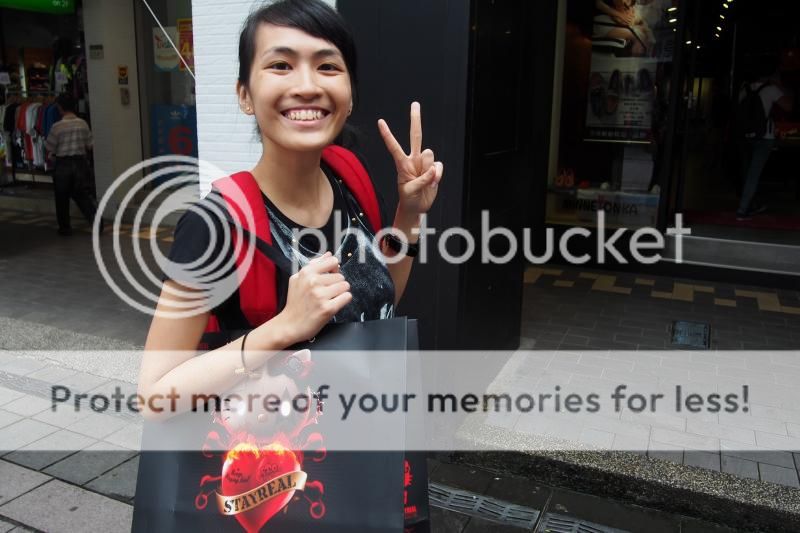 We walked around and unknowingly, we found The Modern Toilet Cafe, went to make reservation and we were told that they will call us in 30minutes time as the cafe was full house at the moment. The Modern Toilet Cafe is located at a corner of an alley btw, its quite hidden. So yeap. My mom was telling me that when she went to Taipei, Xi Men Ting, she couldn't find the cafe. :/
So anyways! Here's the map on how to locate the modern toilet cafe! :D
Credits to my hardworking friend again. :)
Do take note there's opening and closing hours too yea!!!
So after making our reservation, we walked around the area and less than 15 minutes, we got a call from the cafe telling us there are seats available for us already.
Upon reaching the cafe, we were led to the 3rd level, okay, the cafe wasn't as appealing as expected. It was like toilet themed (DUHHH!) and it sort of like turned me off abit. Hahaha!
Adding on, the menu that was given to us was in CHINESE! FREAKING CHINESE!!!! LOLOLOL! Sorry for the words in CAPS, if you guys know me well, I'm really bad in my Chinese, god knows how I scored an "A" for my Chinese during my N Levels. Hahaha!
Their seat also in toilet bowl form! Beautifully designed that is. Haha!
The food we ordered! :D
We initially wanted to order four of the shaved ice, like 1 for each of us. But when my friend went to make payment, the cashier ask them ARE THEY SURE THEY WANTED TO ORDER 4 OF IT?!!! CUZ THE PORTION IS HUGE!!!!
And so, ended up, they heed the cashier's advice and just ordered 2. Then when the thing came, we were so glad they they didn't order 4 if it!!!
LOOK HOW BIG IT IS!!! AND ITS ONLY $4 SGD (UPON ESTIMATION)
Me and my friend find this quite interesting (ME NOT KNOWING THAT ITS A 尿胡 AT FIRST)
尿胡
A bottle normally for old people or for the disability to pee into it so that they won't need to go through the hassle to visit the toilet.
After I found out that ITS REALLY A 尿胡, I got so disgusted I couldn't finish drinking it! Even if its brand new and clean. The thought of knowing its a 尿胡 just makes me wanna puke! LOLOLOL!
The cashier/place where you make your payment located on the 2nd level of the cafe. Overall I find this place rather interesting, if you happen to visit Taipei, Xi Men Ting, you can pay this place a visit. ONCE, just once will do, because the food is so so only, and you're more of paying for the enjoyment of the atmosphere I guess???
Besides that, the price is really really reasonable and affordable though...
After we're done eating. Its time for shopping again! Walked around Xi Men Ting finding interesting places to shop, or pictures to take.
Their Starbucks over there are very vintage looking. Unlike Singapore. Hahaha!!!
In Taipei, not sure about the other states. The "thing" you'll see most are dogs. I don't know, my friend told me that Taiwan people cared and love their pet dogs alot one! Not sure how true though.
MORE SHOPPING!
♥♥♥
After much walking around, we also visited the Red House, located near exit 1 of Xi Men metro station. Inside the red house, there's shops that sells really really cute stuff!
Then, its near evening, we then had our dinner at Risotto's, because when walking around Xi Men Ting, we keep seeing the golden retriever sitting outside the restaurant. So we decided to settle our dinner there.
I ordered the Shake Hand Combo, which consists of a drink, soup and a bowl of risotto. Quite pricey though IMO.
After having our dinner at Risotto's. We then walked a little bit more, since the night is still young. But not for long though. Hahaha!
Took a photo of Xi Men Ting's Night Life!
♥
Xi Men Ting is especially crowded at night! You can walk around Xi Men Ting at 10pm - 11pm++ and still see people shopping around!
Walked back to our hostel and checked out the girls room!
Its Venice themed.
Okay la! Still not that bad. Ever since our Hello Kitty room was a tad disappointment as compared to our previous hostel, we don't dare to hold such high expectations anymore. Lololol!
Check out the interior of the room! :D
Once you walked in, you'll be greeted by this signboard message.
After we're done checking out the girls room, I then went back to my room to shower and wash up, and pack my luggage because the boys (my friend and I) are switching to another room for the remaining days of our stay. Teehee! :D
I was packing my luggage halfway and I was surprised by a birthday cake! OUT OF NOWHERE! Hahaha! My friend gave me an early birthday cake (I think they mixed up my birthday though). Hahaha! But its the thought that counts and I'm really thankful that they still bother to get a birthday cake for me eventhough everyone was really tired already.
THANK YOU GUYS SO MUCH! :')
After that, we had supper!
TAIWAN INSTANT NOODLE STYLE!
Their instant noodles are super awesome, they even have REAL meat inside it! What's more, 7 Eleven is just located below our hostel! This being said, this means we had supper almost every single night. Hahaha!
Then, ending the night watching Sailor Moon! CLASSIC SHOW!

我要代替月亮惩罚你
TROLLOLOLOLOL!!!
Now that's all for Taipei Day 3. Hope you're not bored by it. :/
Thanks for reading ♥