YAY! ITS ANOTHER EPISODE OF AMERICA'S NEXT TOP MODEL CYCLE 20 BOYS AND GIRLS!
Its been long and I've been waiting for this episode since MORNING!!! LOL!
So now to summarize this episode! It all began with Alexandra coming back with a social media score of 7.00!
Now that Tyra has revealed that one of the elimiated boys gets to come back as well! Now this shocked everyone!
So between the 3 eliminated boy:
Mike, Phil and Jeremy. Jeremy came back with a social media score of 6.70.
This means, Alexandra and Jeremy are the comeback contender for Cycle 20, and Tyra mentioned that there are NO MORE comeback, so this is it.
The boys are definitely happy that Jeremy came back especially Don and Marvin, but Jourdan on the other hand WAS NOT! She felt that Jeremy was just relying on social media to come back to this competition whereas she has worked her way to where she is now.
WHEN THEY GOT BACK TO THE HOUSE
Chris picked Alexandra to share the GUESS closet with him, and Nina was abit affected by why Chris didn't pick her. But I guess Chris picked Alexandra because he felt that she didn't win anything and that she was eliminated before AND that Nina is able to win best photo herself. So yea.
THEN NEXT, ITS THE CHALLENGE
The contestants have to do a play on green screen. Jourdan and Alexandra did pretty well, Chris and Renee didn't did as good. In the end, Jourdan was the challenge winner.
BACK AT HOME
Chris was pissed off at how dirty Renee and Alexandra was because they didn't do their dishes (wash their dishes), so Chris wrote a note to the both of them, Alexandra was not as offended as Renee as Renee blew up by just shouting VERY negative things to Chris, calling him a nasty person, in his heart and soul.
Nina was abit offended by what Renee said. Chris told Renee off by saying she's not showing him respect like how he did, then STUPID Jourdan had to be a big mouth and salt to the wound by saying "You have to know what love is to respect", this comment made my Jourdan just made Jeremy stood up for Chris.
In defend for Chris, Jeremy shouted across the room, saying "What do you know love is, when you got divorced at 19", this really starts the fire. Jourdan was so raged by this comment made by Jeremy. She started shouting and yelling. It was a fight between Renee, Jourdan and Chris, Jeremy.
Poor, Nina, Marvin, Alexandra, Cory was trying to stop the fight. Don was nowhere to be seen though. Haha!!
AFTER THAT
Cory confronted with Jourdan and told her off, saying as much hurt Jeremy had said to her, Chris is feeling the same too. And Jourdan made the first move by apologizing to Chris, and that made him felt alot better.
AT THE PHOTOSHOOT
The theme of the photoshoot was YOU + FLAW + AWESOME = FLAWSOME. Which is making use of your flaws and turn it into an asset.
They have guests models, Male Supermodel Shaun Ross, and Actress/Model Zendaya. On and off, Jourdan keeps complaining and saying Jeremy is a distraction for her, and Renee kept wanting Chris to go home. (I HATE RENEE)
The ones that stood out was Nina and Don. Their flaws are Big Eyes (NINA), and Skinny Legs (DON).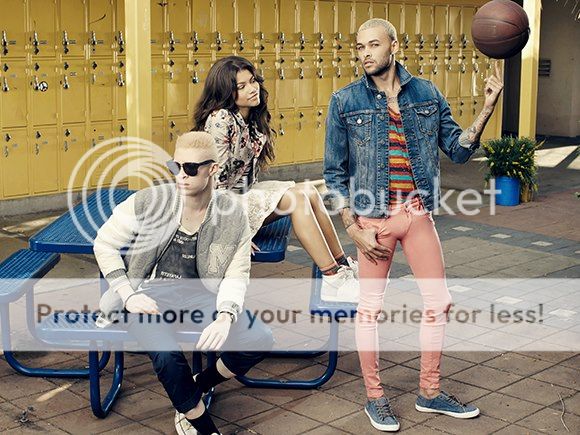 AT PANEL
Renee was complimented by Tyra as she was given the big forehead (5 Head Crew) flaw to work with. and she got a 10 from Kelly, 9 from Tyra, and a 9 from Rob.
The day before panel, Alexandra was already feeling very sick, and on panel, she felt really dizzy and her vision was blur, so she was sent backstage to have a rest.
In the end, it was Alexandra and Chris who are in the bottom 2. Leavin Chris standing alone at panel, Chris was shivering and didn't dare to look at the results, and Nina, well she was worried that Chris might get eliminated. She's even crying for him!!!
IN THE END
It was Alexandra who got eliminated. Kinda sad though, I mean Alexandra is really a very genuine kind of person, and she's not bitchy at all, UNLIKE RENEE.
Tears of joy after knowing that Chris is safe. Haha!!!
Nina is so sweet! ♥
Felt a tinge of sadness when they're showing this, its like she's already sick and yet they're telling her she's being eliminated. I kinda feel for her. She's such a nice person.
Here are the results for Episode 11.
NOW FOR THE LONG AWAITED!
HERE'S EPISODE 11
My predictions for who's being eliminated next will be Don, followed by Renee. Teehee!
Here's the preview for next week's episode.