[26th September 2013]
Day 7 of my Taiwan travelogue, its so fast! It seems as though I was doing Day 1 only yesterday!!!
SOOOOOO
Decided to have Mcdonalds breakfast because we're craving for it since day 1 but didn't manage to wake up before lunch hour! But this time round we were so determined that we set our alarm so that we would wake up! Hahaha!
AND AGAIN!
Like any other restaurants you see, the menu are in Chinese! #IDied
Actually not really, I know Big Breakfast is called 大早餐, and I ordered in with a breeze! Hahaha!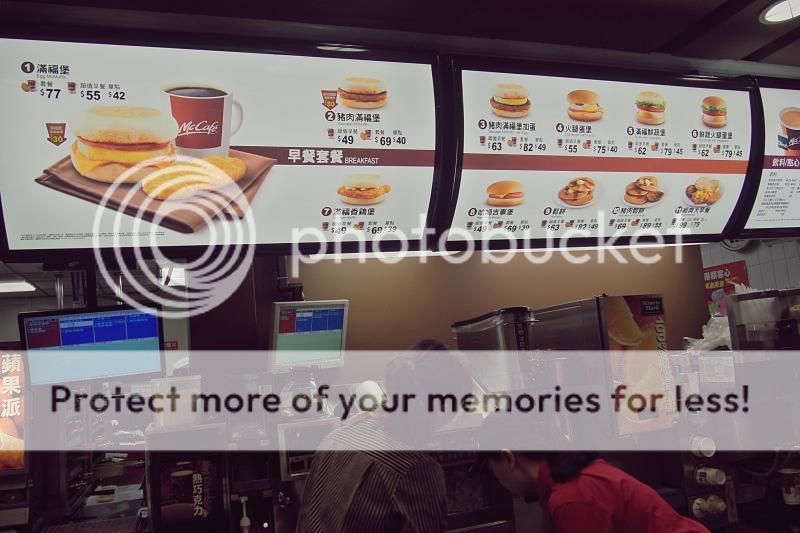 Their breakfasts was kinda disappointing though! Singapore's Mcdonalds still wins it hands down! LOL!!!
And I much prefer SG's packaging too.
AFTER BREAKFASTS
We wanted to head down to a place (which I forgotten what it is), pardon me for my goldfish memory... In the end, we walked one big round around Taipei Main Station, still didn't manage to find the place that we wanted to go.
So we took the alternative and just walk around the underground shops at Taipei Main Station. After much walking, we were pretty much done with the shops there, then 1 of my friend said she wanted to go back to the modern toilet cafe again to try their main dish, because previously we only had their desserts. So off we go, back to Xi Men Ting...
Reached the Modern Toilet Cafe, and I ordered Carbonara! ♥
Taking as much pictures as I can as its the 2nd last day of my trip in Taiwan! I'm definitely gonna miss this place!!! :(((
PINEAPPLE CORN SOUP! (I THINK)?!!!
Chicken Cutlet Rice in a bigass ceramic toilet bowl1 Teehee!
My friend kept saying that this turn off his appetite, but oh wells! It looks cute though! ♥
MY CARBONARA!!!! WITH BACONS IN IT! YUMSS!
AFTER WE HAD OUR LUNCH!
We then went back to our hostel to put down our "Barang Barang's", slacked and wait till late afternoon, then we proceed off to take the Metro to Taipower Building, then we walk by exit 3 just walk down afew lanes and then you will see 師大夜市 (Shi Da Night Market)
While we were walking, we saw this stall where there are lots of people queuing up, so we went over to take a look to see what they're selling. In the end, its SUPER HUGEASS CREPES! AND ITS ONLY 80 NTD!!! What a steal! They also have Ice-cream in it one leh! DAMN NICE!
Just have to say! I'm so amazed at my camera's ability to capture such sharp images even when at night! Hahaha! EPL 5 is ♥!!!
ANYWAYS! AFTER MUCH WALKING!
We decided to settle our dinner at "Niu Mo Wang", if you directly translate is called King of Bull la! My friend have been craving for steak throughout this entire trip, so we thought why not have our dinner over here.
THE MENU
For 180 NTD, which is around $8 SGS++?! MAD CHEAP! IN A RESTAURANT SOMEMORE LEH! You get a mashed potato, a soup with some bread thingy, and the main dish, plus did I mentioned that drinks are of free flow??? Hahaha! ITS REALLY WORTH IT!!
The food is so amazing you have no idea!!! I really love the steak!!! And for that amount that I paid for, its really worth it!!!
Took the metro back to Xi Men Ting after our dindinz, there's nothing much to shop over at Shi Da Night Market actually, my friends and I walk our own separate ways, some of us wanted to go other night markets to shop, while some of us wanted to do some last minute shopping at Xi Men Ting.
TOOK A OFFICIAL "TOURISTY" SHOT AT THE FRONT OF XI MEN TING! ♥
While I was walking around Xi Men Ting, I saw this really really cute and adorable dog. Hahaha! The fur is shaved like a lion! SO CUTEEE! And the poodle looks like Truffle also! Hahahaaha! #JustSaying
ITS SO FLUFFEH IM GONNA DIEEEEE!
Nightlife in Taiwan is really happening, the shop doesn't close if its not yet 10pm++!!! We walked around looking for stuffs, and the girls did some of their shopping at Watsons, cuz Watsons at Taiwan is AWESOME! ♥
I KNOW I'VE SAID THIS A THOUSAND TIMES AND IM GONNA SAY IT AGAIN!
I'm definitely gonna miss Taiwan for sure, but not gonna come back till I've visited some of my diehard to visit countries like Korea, America, Paris, Greece! So yeap! :D
Took a video while we were walking around, its just a "bo liao" video, you guys can watch it if you want! Its a minute video.
YUP! I KNOW! I just wasted 1 minute of your life. XD
And now this ends my Taiwan Travelogue for Day 7! Day 8 will be the last post already! Are you guys excited??? Hahaha!